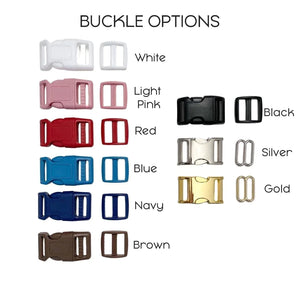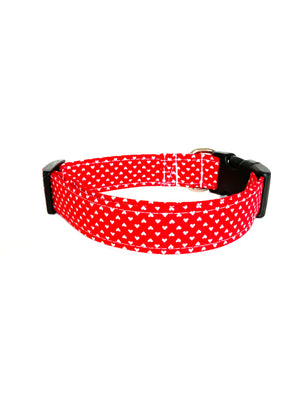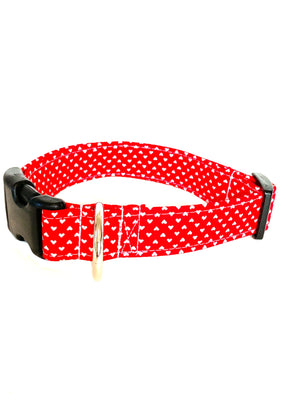 Product image 1
Product image 2
Product image 3
Product image 4

Product image 5

Product image 6

Product image 7

The Romeo Valentine's dog collar features tiny white hearts on a red background.
Our dog collars feature unique, durable fabric, quality hardware, and a strong nylon core. They're machine washable and made to last:
Reinforced stitching at all stress points for added strength
Strong nylon webbing core that can withstand even the strongest pullers
Heavy duty welded d-ring ensures a secure attachment to your leash
All of our products are sewn on an industrial sewing machine
Handmade in Southern California
Choose from several different buckle colors to make your collar truly unique
SIZES:
Our collars come in a variety of widths and sizes to ensure the perfect fit. If you need a custom size, please let us know in the "instructions" box at checkout.
Cat/Tiny (3/8" wide) 7" - 11"
X-Small (1/2" or 5/8" wide) 8" – 12"
Small (3/4" wide) 9" – 13"
Medium (3/4", 1", 1.5" or 2" wide) 12" – 19"
Large (1", 1.5" or 2" wide) 15" – 24"
X-Large (1", 1.5" or 2" wide) 17" – 28"

CARE:
Hand or machine wash using a gentle detergent. Lay flat to dry.
Return Policy
If you would like to return or exchange your item we have a 7 day return policy. You must send the item back to us within 7 days of receiving it and the item must still be in NEW condition. Please email info@collarsbydesign.com for return instructions. Return shipping is paid for by the customer, but should you decide you'd like to exchange your item we will reship free of charge.

Engraved/personalized and custom items cannot be returned or exchanged and are considered a final sale.